The S360 delivers high SPL monitoring without compromising on predictability, speech intelligibility or sound quality.
The S360's fusion of main monitor performance and compact size makes it perfect for demanding film, post and music production, and in combination with a subwoofer, the S360 satisfies the demands of EDM playback or Dolby film mixing even in rooms where the listening distance exceeds 10 metres (33 feet).  
Housed in a low diffraction enclosure with premium quality Finnish woodwork, the S360 features an enhanced 10-inch high efficiency woofer and 1-inch titanium diaphragm compression tweeter housed in an extended directivity control waveguide – delivering neutral reproduction with a short-term SPL capability of 118 dB, with peaks even higher. 
Equally at home in free-standing, in-wall or on-wall positions, versatile mounting is further supported by down-firing reflex ports, making it ideal for use in conjunction with perf screens. To deliver sensational punch while preventing air turbulence, the S360 includes an innovative Iso-Plate, which also effectively decouples the monitor from its base when standing.  
As part of the growing SAM family of Genelec monitors and subwoofers, the S360 tightly integrates with GLM software, via which it can be configured, calibrated and controlled. Using GLM, any Genelec SAM product can be incorporated into a system configurable from simple stereo to large, immersive formats of 40 channels and more.  
GLM also doubles as a comprehensive Mac or PC-based monitor controller, allowing you to calibrate your listening level to accepted loudness standards, switch between formats, monitoring systems and primary listening positions – and much more.  
Technical specifications
± 2.0 dB (39 Hz - 19 kHz)
Woofer 10 inch + Compression Tweeter 1 inch + DCW™
Woofer 250 W + Tweeter 100 W (All Class D)
H 530 x W 360 x D 360 mm, 20 7/8 x 14 3/16 x 14 3/16 in, with integrated Iso-Plate™
1 x XLR analog input, 1 x input / 1 x output XLR digital AES/EBU, 2 x RJ45 control network
Videos
Designing the new Genelec S360 and 7382 monitors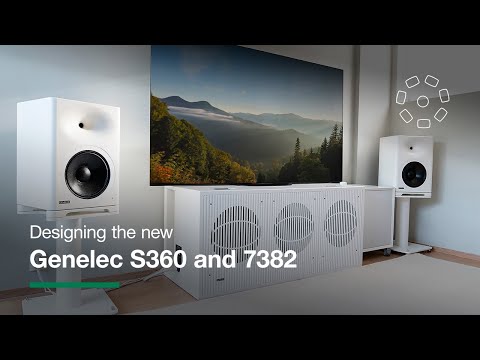 Want to know more about the thinking behind our new S360 and 7382 high-SPL models? Darren Rose goes behind the scenes with our design team to get the answers.
Awards
S360 - Resolution Award - Monitoring