Compact and stylish, the Genelec G Two active speaker is a small active speaker which takes the size / performance ratio to a new level in a beautifully designed cabinet.
Being at the same time small and powerful, this active loudspeaker can be used in music, home theatre or computer setups to bring out all the details and subtlety of the audio source material.
Adding a Genelec F One subwoofer in a stereo setup or a Genelec F Two subwoofer in a multichannel system will provide an unbelievable audio experience to the listeners.
Technical specifications
± 2.5 dB (66 Hz - 20 kHz)
Woofer 4 inch + Tweeter 3/4 inch metal dome + DCW™
Woofer 20 W + Tweeter 20 W
H 242 x W 151 x D 142 mm, 9 1/2 x 6 x 5 5/8 inch, with Iso-Pod™
Reviews
Hifi & Musik: Genelec G Two review, September 2014 (SE)
Videos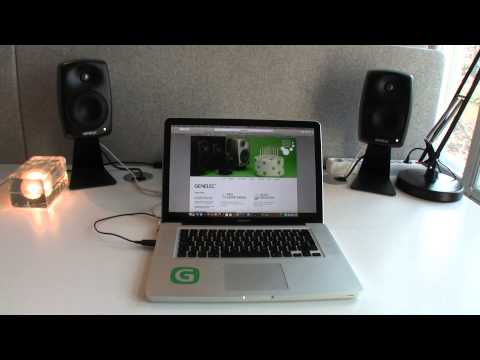 Useful tips how to set tone controls when placing the speakers close to wall, corner, on the table etc.
Awards
G One & G Two - Japanese Audio Excellence (AEx) and VGP Lifestyle Award 2015